AVANZAR is more than a road goods carrier: we are your best transport and logistics partner, providing solutions and offering effective management in road deliveries covering all needs (B2B, B2C). We can deliver anywhere in Aragón, Spain and Europe whenever required. AVANZAR has a team with over 20 years' experience in the sector, with substantial transport and logistics knowledge. Punctuality and security for our services is our commitment to the quality service we provide.
In constant contact with our customers via e-mail or phone 24 hours a day, 365 days a year.
OUR VEHICLE FLEET
We have at your disposal a fleet of over 50 vehicles, mainly large volume vans, box vans and light and medium trucks.
We also have partnerships with national and international operators, to give greater coverage to our customers and to find the quickest and most effective solutions for their goods transport needs.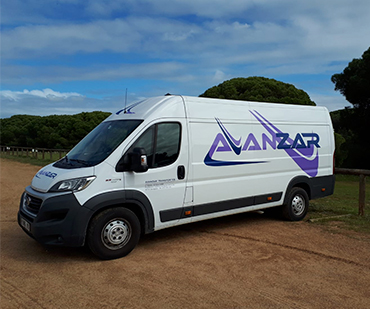 LARGE VAN
14 m³ / 5 Europallet storage
(4.30 x 1.90 x 1.70) interior dimensions
< 1300 kg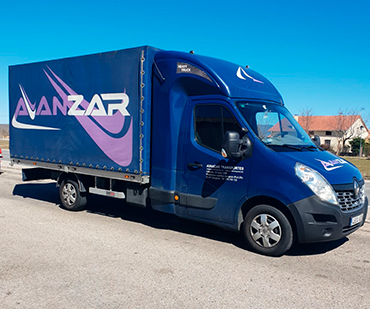 BOX VAN, DOORLESS
18 m³ / 8 Europallet storage
(4,20 x 2,00 x 2,00) interior dimensions
< 1000 kg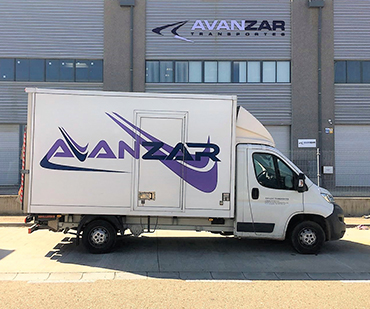 BOX VAN, DOOR
18 m³ / 8 Europallet storage
(4,20 x 2,00 x 2,00) interior dimensions
< 750 kg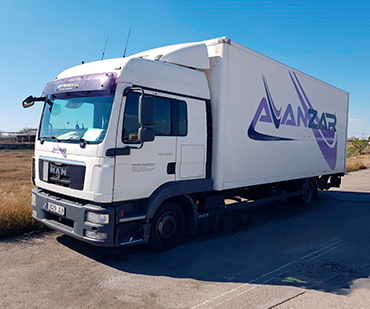 MINI-TRUCK
35 m³ / 15 Europallet storage
(6/7 x 2,65 x 2,45) interior dimensions
< 3500 kg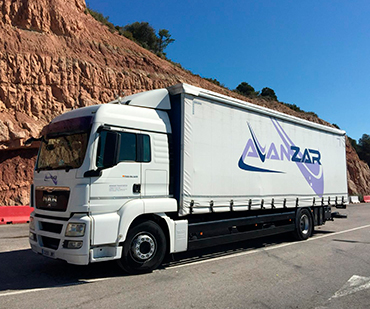 MEDIUM TRUCK
40 m³ / 18-20 Europallet storage
(7/8.5 x 2,65 x 2,45) interior dimensions
4000 < 9000 kg

EXCLUSIVE AND EXPRESS NATIONAL AND INTERNATIONAL SERVICE
Optimised journeys
LISBON - 12 h.
PARIS - 13 h.
LONDON - 21 h.
VIENNA - 30 h.
ROME - 22 h.
BERLIN - 30 h.
STOCKHOLM - 46 h.
WARSAW - 40 h.


STORAGE
Shelf storage service, with 24 hour security and security systems. We perform the handling, labelling, location and retrieval in our warehouse. We can collect your order, and prepare and store it in our facilities, as well as deliver it according to the criteria requested. Delivery by route and times established.

COMPLETE MANAGEMENT
In the pursuit of offering a more customised and a wider variety of services, we can meet all the needs of our customers regarding transportation, documentary advice (e.g. customs clearance and Incoterms) and management systems that allow flexibility and reliability in product delivery times.

DIRECT CONTACT
FCR (Flexibility, Commitment, Reliability): You can contact us directly via e-mail or phone. We are available all day, every day (24/7/365).

ON TIME
Our team responds to each request efficiently and quickly. There are no delays, no handling, no forwarding. Direct, customised, door to door. Special dual-driver service when necessary to minimise journey times. Fast, reliable and secure.

DELIVERY CONFIRMATION
The same driver and vehicle that collect your goods deliver them. We confirm the pickup and delivery times and keep you informed of the status of your delivery in real time. Our team tracks the delivery at all times, providing progress updates whenever required, with our 24-hour monitoring system.

ADR
Maximum safety and efficiency in the service. Compliance with applicable regulations and legal requirements; with drivers undergoing continuous training and vehicles having periodic inspections to carry such goods.

TREATMENT OF MERCHANDISE
Exclusive and dedicated service. Door-to-door. For urgent goods that cannot wait for the normal delivery time or require special treatment due to the nature of the product.

MERCHANDISE 100% INSURED
Our vehicles have goods insurance policies meeting the requirements of LOTT (Law governing overland transport) nationally, and the CMR convention internationally. If required, we can increase the sum insured for your merchandise.